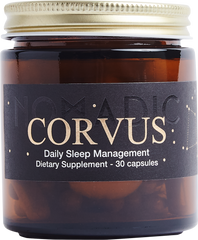 Corvus
Sleep & Stress Relief Adaptogens
You will fall asleep and stay asleep with our Nomadic Corvus Blend. The combination of adaptogens and herbs decreases the time it takes to fall asleep, relaxes the mind, calms the body and spirit.

The Corvus blend brings together nine essential adaptogens blended with care to support your ability to sleep soundly and wake up fully rested. 

Click here for more information on our Corvus blend
Did you know Nomadic Effects doesn't use fillers or additives in our products?
Read No Stems, No Sticks, No Fillers to discover common additives you should avoid.
Benefits
Decreases the time it takes to fall asleep, Relaxes the mind, Calms the body & spirit, Promotes restful sleep throughout the night, Cacao curbs sweet cravings
Great for
When you're feeling stressed, anxious, or overwhelmed., Unwinding after a long, stressful day., Battling an hyperactive brain & getting a deep sleep., Chocolate lovers looking for a good chocolate fix., A daily source of calcium, iron and magnesium.
Key Ingredients
Ashwagandha, Cacao, Chamomile, Holy Basil, Reishi Mushroom, Turmeric, Valerian Root, Lavender, Lemon Balm
Order CORVUS

Save an additional 12.5% by ordering the 60 count, a $9 savings.
Usage Instructions
Adults, as a dietary supplement, take two capsules in the evening prior to sleep.
Consult a medical doctor before taking this or any other nutritional supplement if you are pregnant, nursing, have or suspect a medical condition, or are taking any medications. Store in a cool, dry place. KEEP OUT OF REACH OF CHILDREN.
†︎ THESE STATEMENTS HAVE NOT BEEN EVALUATED BY THE FOOD AND DRUG ADMINISTRATION. THIS PRODUCT IS NOT INTENDED TO DIAGNOSE, TREAT, CURE, OR PREVENT ANY DISEASE.