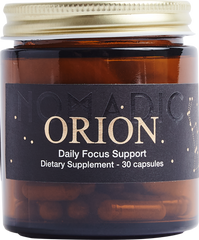 Orion
Focus & Mental Cognition Adaptogens
The Orion formula is designed with focus in mind and contains a core blend of herbs to improve cognitive functions like memory, focus, increased alertness, mood-stabilization and long-term brain health with a boost from the assist blend which contains complementary compounds that enhance the core effects. 
In Traditional Chinese Medicine these are traditionally used to support mental clarity and stay attentive especially under times of stress. Useful for people who work hard, tire easily or have mental fatigue.
Click here for more information on our Orion blend
Did you know Nomadic Effects doesn't use fillers or additives in our products?
Read No Stems, No Sticks, No Fillers to discover common additives you should avoid.
Benefits
Supports cognitive function, Enhances clarity, Promotes steady energy levels, Improved ability to handle stress, Decreases seasonal runny nose and itchiness
Great for
Powering through long hours of work,, Meetings and/or studying., Keeping focus on your reading or writing, Tearing down creative blockades in your work., Meeting deadlines or studying for exams., High-achievers looking for a boost in productivity.
Key Ingredients
Mucuna Pruriens, Turmeric, Grape seed extract, Lions Mane, Ginkgo, L-Theanine, Lemon balm, Ginseng
Order ORION

Save an additional 12.5% by ordering the 60 count, a $9 savings.
Usage Instructions
Adults, as a dietary supplement, take two daily, preferably with a light meal.
Consult a medical doctor before taking this or any other nutritional supplement if you are pregnant, nursing, have or suspect a medical condition, or are taking any medications. Store in a cool, dry place. KEEP OUT OF REACH OF CHILDREN.
†︎ THESE STATEMENTS HAVE NOT BEEN EVALUATED BY THE FOOD AND DRUG ADMINISTRATION. THIS PRODUCT IS NOT INTENDED TO DIAGNOSE, TREAT, CURE, OR PREVENT ANY DISEASE.