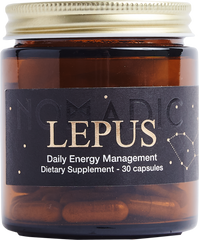 Lepus
Energy & Focus Adaptogens
To expect great things from yourself is one thing! To have the energy to do them is a miracle! The Lepus Core blend contains four adaptogenic herbs that can help adapt your vibe to a higher frequency. 

The ingredients are often used for relieving stress and exhaustion, for support of the lungs and the adrenal system, which in turn balances the body's histamine response. This blend is especially effective for parents and teachers, artists and healers, and those who meditate regularly or care for another, as it restores vital creative energy when one is giving rather than receiving

Click here for more information on our Lepus blend
Did you know Nomadic Effects doesn't use fillers or additives in our products?
Read No Stems, No Sticks, No Fillers to discover common additives you should avoid.
Benefits
Boosts Energy & Endurance, Replenishes adrenals, Supports the lungs and kidneys, Restores creative energy, Relieves stress and exhaustion, Balances histamine response, Improves focus and feeling of well-being
Great for
Replenishes adrenal reserves, Early mornings and late nights, Reduces environmental sensitivities, Has trace minerals, vitamins, RNA/DNA, Safely removes heavy metals and chemicals
Key Ingredients
Ginseng Root, Rhodiola, L-theanine, Ashwagandha, Cordyceps, Holy Basil, Maca, Shatavari
Order LEPUS

Save an additional 12.5% by ordering the 60 count, a $9 savings.
Usage Instructions
Adults, as a dietary supplement, take two daily, preferably with a light meal.
Consult a medical doctor before taking this or any other nutritional supplement if you are pregnant, nursing, have or suspect a medical condition, or are taking any medications. Store in a cool, dry place. KEEP OUT OF REACH OF CHILDREN.
†︎ THESE STATEMENTS HAVE NOT BEEN EVALUATED BY THE FOOD AND DRUG ADMINISTRATION. THIS PRODUCT IS NOT INTENDED TO DIAGNOSE, TREAT, CURE, OR PREVENT ANY DISEASE.