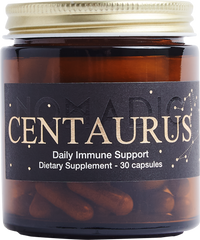 Centaurus
Immune Support & Gut Health Adaptogens
The Centaurus Blend from Nomadic Effects is a combination of organic adaptogens curated specifically to support and enhance your immune system. In times of stress and uncertainty these powerful herbs and mushrooms are especially needed to help our systems adapt and evolve.

The plant allies contained in the Centaurus Blend are traditionally used to support lung, throat, nasal irritations, tiredness, and body discomfort.
Click here for more information on our Centaurus blend

Did you know Nomadic Effects doesn't use fillers or additives in our products?
Read No Stems, No Sticks, No Fillers to discover common additives you should avoid.
Benefits
Supports a healthy immune system, Supports itchy throat, Maintain respiratory health, Resolves phlegm, Clears heat and irritability
Great for
Daily Immune Support & Strengthening, Immune modulating herbs, Naturally occurring vitamin C, zinc, copper, manganese, calcium, and potassium, Liver & lung protection
Key Ingredients
Astragalus, Reishi Mushroom, Cordyceps, Turkey tail, Holy Basil, Maca, Shitake, Ginger
Order CENTAURUS

Save an additional 12.5% by ordering the 60 count, a $9 savings.
Usage Instructions
Adults, as a dietary supplement, take two daily with dinner for optimal absorption of healthy benefits.
Consult a medical doctor before taking this or any other nutritional supplement if you are pregnant, nursing, have or suspect a medical condition, or are taking any medications. Store in a cool, dry place. KEEP OUT OF REACH OF CHILDREN.
†︎ THESE STATEMENTS HAVE NOT BEEN EVALUATED BY THE FOOD AND DRUG ADMINISTRATION. THIS PRODUCT IS NOT INTENDED TO DIAGNOSE, TREAT, CURE, OR PREVENT ANY DISEASE.