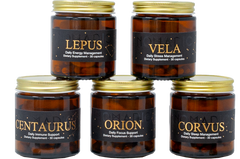 Adaptogen Bundle
Save 15% On Whole Body Adaptogens
Nomadic Effects' Full Body & Mind Adaptogenic Kit supports healthy adrenal, liver, gastrointestinal and cellular function while removing toxic heavy metals and other environmental toxins. ADAPT YOUR VIBE!


This kit is intended for adults and teens.
Available in one size. Each kit includes:
Lepus - Energy (30 Count)
Vela - Stress Relief 

(30 Count)

Centaurus - Immune Support (

30 Count)

Orion - Mind Focus  (30 Count)


Corvus - Sleep Assist  (30 Count)
Nomadic Effects doesn't use fillers or additives in our products!
Read No Stems, No Sticks, No Fillers to discover common additives you should avoid. 
Great for
Daily immune support and strengthening of overall body systems, Full night of restful sleep, Restoring energy levels and overall vitality, Clear your brain fog, Boost internal balance & beauty
Usage Instructions
Adults, as a dietary supplement, take two daily with dinner for optimal absorption of healthy benefits.
Consult a medical doctor before taking this or any other nutritional supplement if you are pregnant, nursing, have or suspect a medical condition, or are taking any medications. Store in a cool, dry place. KEEP OUT OF REACH OF CHILDREN.
†︎ THESE STATEMENTS HAVE NOT BEEN EVALUATED BY THE FOOD AND DRUG ADMINISTRATION. THIS PRODUCT IS NOT INTENDED TO DIAGNOSE, TREAT, CURE, OR PREVENT ANY DISEASE.